Discover the Landes
The Landes
The Landes is the second-largest department in France, covering an area of 9,243 km2. It is home to 405,000 people and is situated in the Nouvelle-Aquitaine region, in the heart of Gascony, between the departments of the Pyrénées-Atlantiques to the south, Gironde to the north, Lot-et-Garonne to the northeast and Gers to the east.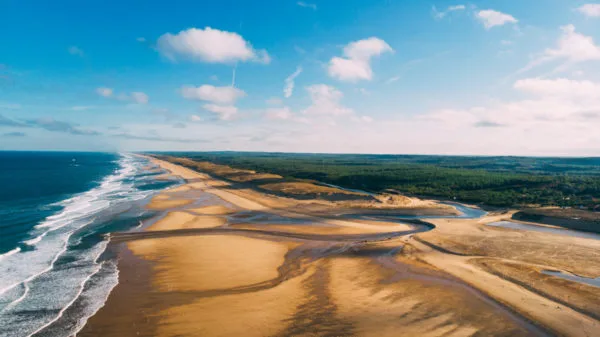 Geography of the Landes
The Landes offers a wide variety of landscapes and natural spaces that are unique in Europe.
With over 100 kilometres of coastline, bordered by a dune ridge that stretches continuously from the mouth of the Adour river to the gateway to the Bay of Arcachon, and expansive sandy beaches dotted with a series of fifteen seaside resorts from North to South: Tarnos, Ondres, Labenne, Capbreton, Hossegor, Seignosse, Soustons, Vieux-Boucau, Messanges, Moliets-et-Maâ, Vielle-Saint-Girons, Lit-et-Mixe, Contis, Mimizan, Biscarrosse.
Europe's largest pine forest covers nearly 60% of the department's surface area, encompassing the Regional Natural Park of Landes de Gascogne and the Marquèze Ecomuseum. The Leyre river cuts through the forest, winding its way over 80 km to its delta in the Arcachon Bay.
The department also offers a series of vast freshwater lakes with sandy beaches and pine trees near the coast, including that of Cazaux-Sanguinet, the second-largest freshwater lake in France covering 55 km2 and the lakes of Parentis-Biscarrosse, Aureilhan-Mimizan, Léon, Soustons, Port-d'Albret, the black and white lakes of Seignosse, and the lake of Hossegor.
Hilly landscapes precede the nearby Pyrenees, such as in Armagnac, Chalosse, Tursan and Pays d'Orthe, located in the east of the department and south of the Adour river. These inland territories  have given the department its great culinary reputation with their excellent products awarded with quality and origin labels.
Marshes and wetlands represent nature reserves of great ecological interest, such as the reserve of Arjuzanx or Marais d'Orx, two of the main transition or wintering sites for migratory birds like the Eurasian crane, or the Barthes de l'Adour and the coastal ponds.
What to do in the Landes
The department's great variety of landscapes makes it an ideal location for a wide range of outdoor activities.
The Landes coast is a European surfing capital with ideal conditions for beginners and top-level surfers alike, due to the presence of beach breaks (waves that break over a sandy bottom), offering great variety and year-round surfing. Hossegor and the neighbouring towns of Seignosse and Capbreton have gained a global reputation due to their large number of spots, including the Nord and Gravière d'Hossegor, where a part of a professional surfing circuit is held every October.
The Landes is also France's number-one thermal spa department with 18 thermal spas that welcome 80,000 spa clients every year in five towns: Dax and Saint-Paul-lès-Dax, which represent France's leading area for thermal spas, Eugénie-les-Bains, Préchacq-les-Bains and Saubusse. In addition to prescribed three-week long cures for wellness that are covered by French health insurance, these spas offer short breaks and themed mini-cures for wellness and fitness year-round.  
From everyday trips to long-distance rides that last several days, the Landes is worth discovering by bike, with nearly 600 km of protected cycle paths and 1,700 km of signposted routes including two European cycling paths: the Scandibérique and the Vélodyssée, which cut across the department. Professionals (campsites, hotels, guest rooms, rental companies, repair shops, tourist sites) certified by the Accueil Vélo label have made a commitment to offer services tailored to cyclists.
The Landes is a favourite destination for European golfers with some ten golf courses and training facilities, sandy soils that make it possible to play all year round and three internationally-renowned courses in Hossegor, Moliets and Seignosse.
With its many streams, lakes and rivers, the department of the Landes provides an array of opportunities for canoeing, whether for a few hours or a several-day journey, such as along the Leyre river in the heart of the Landes forest.
Water sports
Whether it is sailing, stand-up paddling, windsurfing, wakeboarding, water skiing, kite-surfing, jet skiing or even sand yachting, the Landes, with its long coastline, expansive beaches and large bodies of water, is a perfect destination for all water sports, from the calmest to the most adventurous.
Landes Festivals and traditions
With nearly 800 days of festivities every year, celebrating is a way of life for the people of the Landes. The Dax Feria (around 15 August) and the Madeleine Feria in Mont-de-Marsan (third week of July) attract visitors from all over France.
The tradition of festivals and ferias in the Landes extends to the smallest villages and peaks in the months of July and August. These festivals provide the perfect opportunity to organize big meals; attend concerts, fireworks, courses landaises (bloodless bull-fighting), parades with floats and other events; meet up with friends in penas and bodegas run by associations, or enjoy merry-go-rounds and the funfair.   
There are also many festivals held throughout the year including Musicalarue in Luxey, Latinossegor in Hossegor, Arte Flamenco in Mont-de-Marsan, Atouts Cœur in Benquet, Jazz in Sanguinet, Toros y Salsa in Dax and Chansons and Mots d'Amou.
The department of the Landes is known for its wealth of exceptional culinary products – epitomised by foie gras, of which the department of the Landes is the leading producer – providing the basis for its festive and generous cuisine.
The department of the Landes is home to seven produce sectors boasting quality marks (label, Protected Designations of Origin (PDO), and Protected Geographical Indications (PGI)), which is a record: free-range Landes poultry, including its renowned Saint-Sever chickens, free-range duck and foie gras, Chalosse beef, Adour kiwi fruits, Sables des Landes asparagus in addition to Armagnac, Floc de Gascogne and Tursan wines.
The Landes is also the birthplace of world-famous chefs like Michel Guérard, Alain Ducasse, Alain Dutournier and Hélène Darroze. The department is home to 5 Michelin-starred restaurants: Michel Guérard's Les Prés d'Eugénie in Eugénie-les-Bains (3 stars), Jean Coussau's Le Relais de la Poste in Magescq (two stars), Christophe Dupouy's Les Clefs d'Argent in Mont-de-Marsan (1 star), Yannick Duc's Le Hittau in Saint-Vincent-de-Tyrosse (1 star) and David Sulpice's Villa de l'Etang Blanc in Seignosse (1 star).
Every autumn, the Landes celebrates local cuisine through the Automne Gourmand des Landes event.
History and heritage of the Landes
The heritage of the Landes department attests to a very long history of human settlement. It was in a small village in Chalosse that the oldest depiction of a human face, the Dame à la Capuche (Lady with a Hood), was found. The face was carved into a piece of ivory over 25,000 years ago. Brassempouy has become a major prehistoric site with its museum and archaeological park.
The department is also home to many Gallo-Roman ruins, examples of which include the city walls and archaeological crypt in Dax.
In the Middle Ages, powerful Landes abbeys spread their influence throughout Gascony, such as Saint-Sever Abbey, Arthous Abbey and Saint-Jean-de-Sorde Abbey, which are still spectacular examples of Romanesque art.
It was also around the 13th and 14th centuries that bastides and castelnaux (towns built around a castle) started to be built, such as Labastide-d'Armagnac, Saint-Justin, Montfort-en-Chalosse, Geaune, Hastingues and many others across the department. At the same time, Mont-de-Marsan was developing around its river port and built its Lacataye keep, which now houses the Despiau-Wlérick Sculpture Museum, and its Romanesque-style homes made with coquillère stone (encrusted with shells), which can still be seen in the old town centre.
The rural heritage of the 18th and 19th centuries is also alive in the Landes, through iconic sites such as the Marquèze Ecomuseum and the Museum of Chalosse in Montfort.
Lastly, the inter-war period gave rise to a great architectural revival in the Landes, both in coastal towns such as Hossegor with the triumph of the Basco-Landaise style, and in the spa town of Dax, with the construction of the Splendid Hotel, which is still considered one of the world's Art Deco masterpieces.    
April
Street Sale – Hossegor
May
Atout Cœurs Festival – Benquet
Abbey Festival – Landes
June
Saint-Jean Festival – Saint-Sever
July
Arte Flamenco Festival – Mont-de-Marsan
Prehistory Festival – Brassempouy
Fêtes de la Madeleine (feria) – Mont-de-Marsan
Jazz in Sanguinet – Sanguinet
August
Chansons and Mots d'Amou Festival – Amou
Musicalarue Festival – Luxey
Dax Feria – Dax
Latinossegor Festival – Hossegor
September
Toros y Salsa Festival – Dax
Automne Gourmand des Landes (Autumn Culinary Festival)
October
Quiksilver & Roxy Pro – Hossegor
Armagnac Festival – Labastide-d'Armagnac
Sites to visit in the Landes
Archéoparc de la Dame (Archaeological Park) – Brassempouy
Marquèze Ecomuseum – Sabres
Arthous Abbey – Hastingues
Sorde Abbey – Sorde-l'Abbaye
Splendid Hotel & Spa – Dax
Despiau-Wlérick Sculpture Museum – Mont-de-Marsan
Abbey church and old town centre – Saint-Sever
Museum of Chalosse – Montfort-en-Chalosse
Musée de l'hydraviation (Museum of Marine Aviation) – Biscarrosse
Domaine d'Ognoas – Arthez-d'Armagnac
Place Royale and old town centre – Labastide-d'Armagnac
Capbreton port
Place des Landais – Hossegor
Contis lighthouse – Saint-Julien-en-Born
Museum of Faience and Tableware – Samadet
Cave des Vignerons (winemakers' cooperative) – Geaune
Mouth of the Courant d'Huchet – Moliets-et-Maâ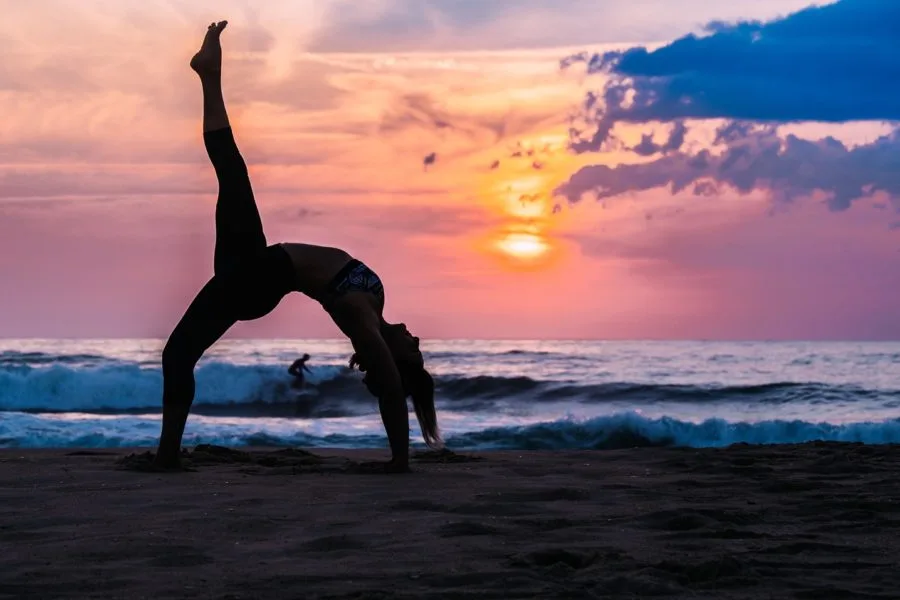 Imagine surfing at the crack of dawn, horse riding on the beach, cycling along by the ocean, spending the night on a desert island, taking a moment to unwind in an abbey or even revisiting prehistoric times. Unforgettable experiences await you in the Landes!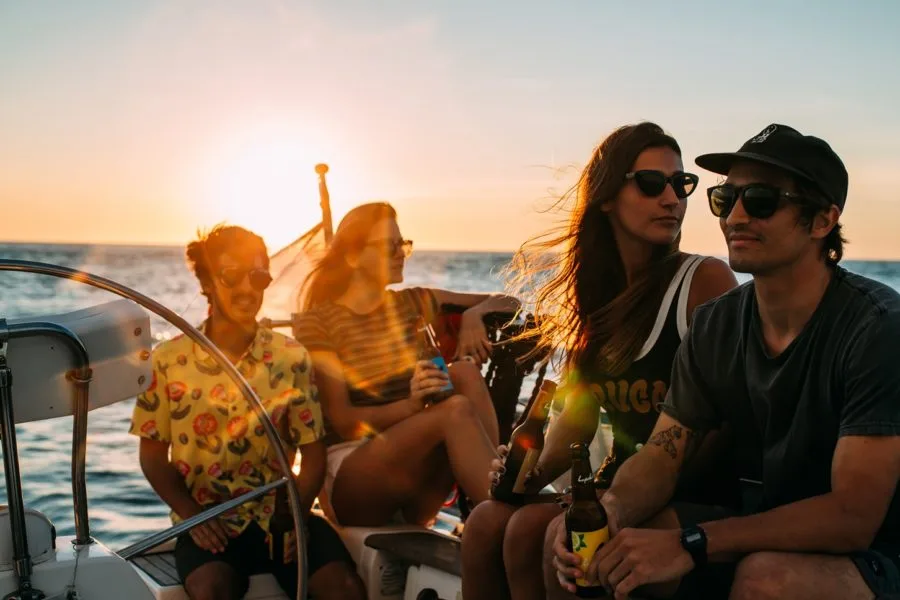 Explore 106km of endless beaches and ocean views, large lakes with crystal clear waters rimmed with fine sand and the largest pine forest in Europe. Discover charming villages, five spa resorts, world-famous golf courses and an incomparable spirit of festivity. Be prepared for a few surprises in...